Should US Investors Freak out more about COVID-19? (Framework Included)
HINT: Watch Seattle (and Italy)
Abstract (or TL;DR)
While the true mortality rate of COVID-19 is unknown, the main risk to the US healthcare system is the speed of contagion which can quickly overwhelm hospitals, as seen in Wuhan. There are enough ventilators nationwide to handle a mild to moderate COVID-19 outbreak, but a severe one would overwhelm our system, at least in the early days. The issue is coordination and the geographic distribution of the supply and demand of ventilators. The more they do not overlap, the more likely patients will die and dent both Americans' and the market's confidence in our healthcare system. This would increase the chances of panic and self-quarantine, thus depressing economic activity and risk asset prices in the US.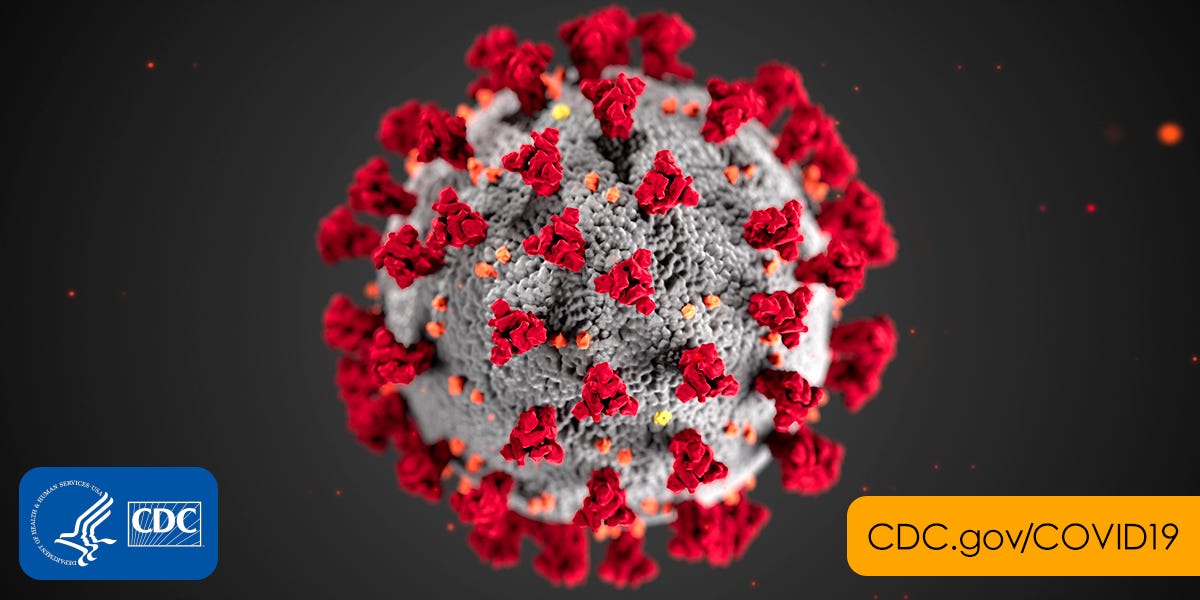 NOTE: The COVID-19 situation is evolving so quickly that by the time you read this, some of the facts my be stale. I've been trying to write this piece for a week, but kept updating it with new developments. Hopefully this is informative even in posterity.
WTF is going on?
If you are in the investment world, these last two weeks have probably rendered you shell-shocked by news of the novel coronavirus (hereafter COVID-19). If you are based in Asia, you've had to put up with even more for even longer since you are living it. By now, so much has been written about the virus itself so I don't want to rehash everything. I also do not want to diminish the human impact, but there is excellent writing elsewhere covering the courageous to the mundane (for example, this, this, or this).
Before the meltdown started Feb 24th, most portfolio managers used SARS as the mental model and just assumed that warming weather would backstop the spread of the virus. In that scenario, the market snapped back aggressively in April 2003 and all was well. (As an aside, I've heard that the biggest regret of people who lived through SARS in HK is that they didn't buy more real estate at the bottom) In regards to COVID-19, when I asked them why they were confident in this assumption, they simply conceded that they were not experts in epidemiology so SARS seemed reasonable. However, as it became clear that this was more virulent than SARS and would not stay contained to China, the confidence in that assumption came crashing down alongside equity markets globally. No one knows what they are doing and the market is dazed and confused (See VIX).
In the wake of that, I mulled over the right framework to analyze the COVID-19 situation. Just this week we've seen hospitals in Italy overrun, an outbreak in Seattle (and now Westchester County New York), and the equity market fade the Fed's 50 bp surprise cut. While I too am no expert in epidemiology, I started to think about what obvious assumptions the market was taking for granted right now, and thus the framework below was born.
The Framework
As a fan of 2x2 matrices, I put one together along the axes described below. In each box there are rough descriptions of the various scenarios. The arrows denote "progression" from best to worst case. I should also note that the time horizon of the matrix is no more than a few months or even weeks because a lot will be revealed in March as Seattle and the rest of the country ramp up testing (more on that below).
"Severity" of outbreak - is this one isolated case at of a freelancer working from home vs case cluster from the Super Bowl?

"Frequency" of outbreaks - are we seeing one cluster sporadically or will there be outbreaks in several geographies?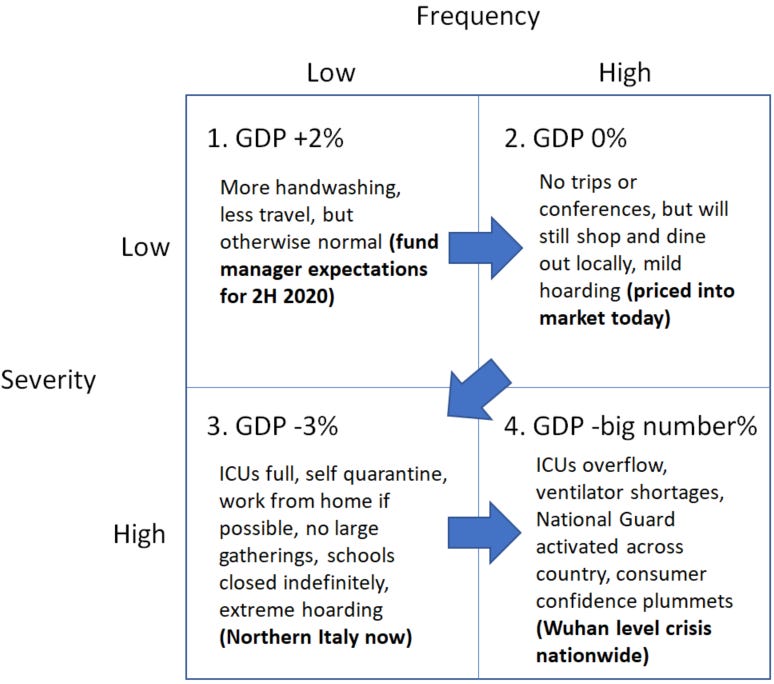 Based on conversations with market participants, I believe the market is in Box #2 and is assuming/pricing in:
US GDP 0% to slightly negative for two quarters

China's economy hits full speed by end of March

China succeeded in stopping the spread of COVID-19 domestically

US healthcare system can handle any COVID-19 outbreaks (OR COVID-19 impact will be limited)
Assumptions 1. and 2. are relatively straight-forward and quantitative in nature. Most managers' base case is a recovery back to #1 by Q3/Q4 2020. Any changes in those assumptions would increase or decrease the pace of recovery, but ultimately still arrive at a recovery. Through my own reading and observations, US consumer behavior is somewhere between #1 and #2, though certain cities (Seattle) are moving into #3. Companies have stopped non-essential travel and are testing out work from home, while multiple conferences and music festivals have been cancelled across the country. As for airlines and hospitality…yeah.
Assumption 3. is what I would call a "conscious" assumption in that we know we are making an educated guess. I understand not everyone believes "China's numbers" but unless you can get President Xi on the phone to confirm, it does seem like pollution and port volume are trending positive in China. If you have evidence otherwise, don't hesitate to share. Assumption 4. is what I would call an "unconscious" assumption in that most Americans generally assume that we are a developed economy with cutting edge medical technology so it's all good. However, the vast majority of us have not experienced epidemics/pandemics and have never underwritten what is needed to stop one. Back to the framework above, the most likely way to slip into Box #3 or (god forbid) #4 is if Assumption 4. on US healthcare is wrong. (For those short on time, skip to Seattle: Tip of the Iceberg?)
Head to Head Flu Comparison
To compare the relative severity between different recent strains of the flu, I put together the table below. The categories are self explanatory but R0 ("R naught") is the rate of infection of a virus. An R0 of 2.2 means each patient infects 2.2 other people, and epidemics slow down if you can get that number below 1. As you can imagine, that number can be dynamic and dependent on context, which I will touch on below. For The Flu I took the averages for the last 10 years.

Data Sources: Influenza, Swine Flu, R0, COVID-19 (WHO, CCDC)
What immediately jumps out at me is the rate of hospitalizations for COVID-19 cases and the relatively low mortality rates of The Flu and Swine Flu. I understand how America thinks the media is crying wolf again (particularly in a polarized environment) given the hysteria around Swine flu, then Ebola, then Zika, and now this. Although, the Swine Flu was declared a national emergency, most Americans did not change their daily habits and the mortality rate was lower than feared. However, the static numbers above do not capture the key issue: the speed of contagion. Wuhan's hospitals were overwhelmed in a matter of days to weeks with China flying in doctors and nurses around the country and everyone working 24/7 (with some of them sadly dying from overwork). This has direct impacts on non-COVID-19 patients as resources are directed away from them in order to handle the outbreak. In looking at this exact phenomenon during the Swine Flu, the authors of this paper saw that patients with stroke, heart attacks, or heart failure "at a high-surge hospital had a significant increase in mortality risk compared with patients with those conditions at no-surge hospitals."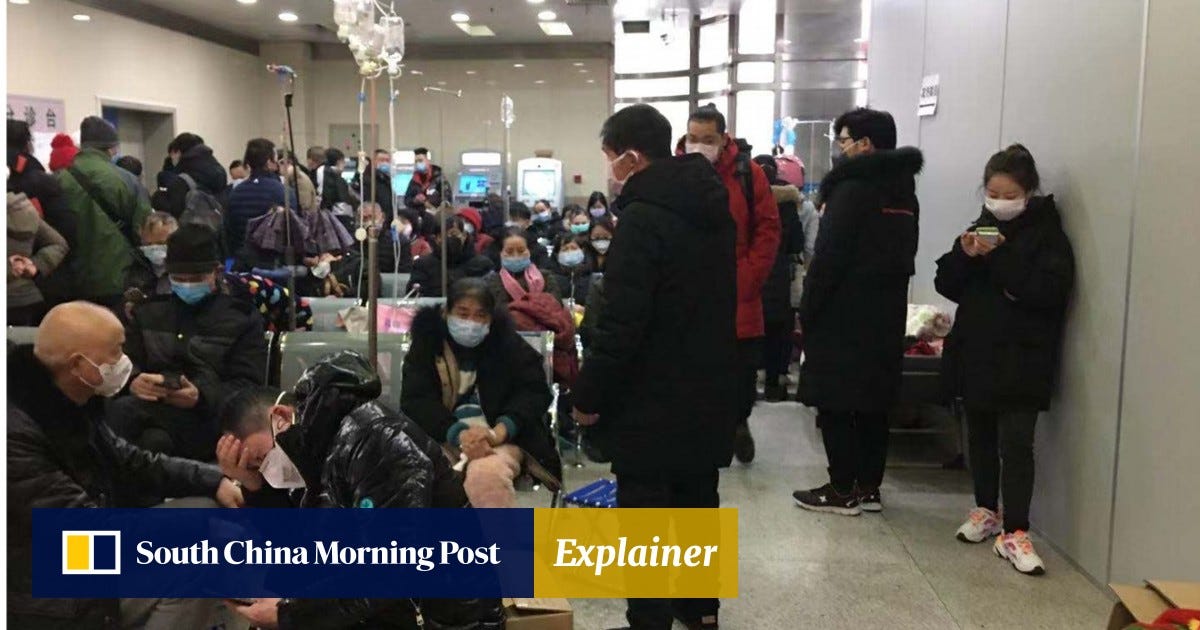 Given that no one was aware of COVID-19 until the most critical cases started overloading the ICUs, there are likely many mild cases left undiagnosed which would raise the case count in all countries, but especially in China. This could mean that the hospitalization rate and mortality rate should be lower overall, but probably unchanged for elderly and infirm as seen in the graphic below (44,672 cases).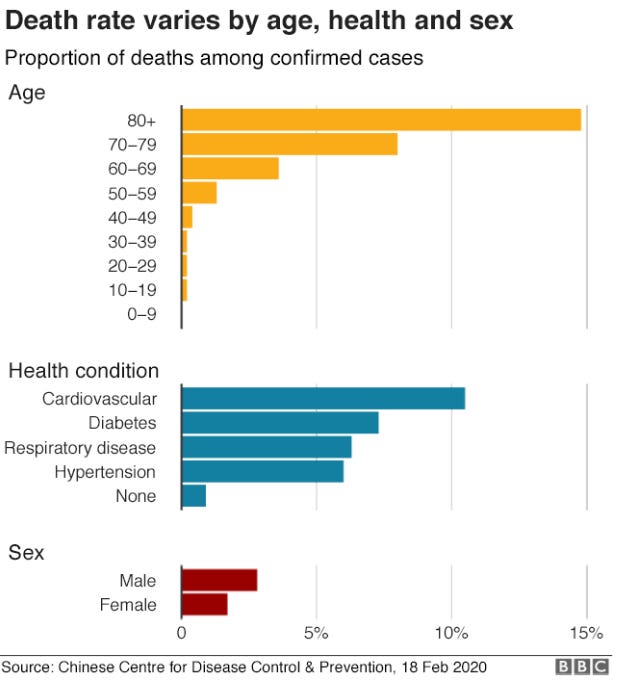 On the other hand, you could make the case that R0 should actually be higher given that China took the aggressive action of locking down Wuhan and Hubei province, while imposing self quarantine on the rest of the country. To be crystal clear, for a period of 2-3 weeks, no one in China could leave their home, not just folks in Hubei province. Outside of Hubei, many people are still working remotely and not leaving their homes. As such, what seems like a low absolute number of cases (relative to 1.4bn people) is probably an undercounting. By how much, we will never know, but if left unchecked could have doubled a few times because of the long incubation time of COVID-19.
Back to the hospitalization point, while the China numbers are high at 18-20%, Italy's is absolutely staggering at 46%! I couldn't find a source for South Korea but they are high as well. The situation in both Italy and South Korea resembles that of Wuhan in the early days. Just a week or so ago, things seemed manageable and then all of a sudden they were hit with a "tsunami." In Italy they are having to bring doctors and nurses out of retirement because 10% of the doctors in Lombardy have caught COVID-19 themselves, again resembling Wuhan. I don't have any hospitalization statistics on Iran but 23 of their members of Parliament testing positive is not a great sign.
There are plenty of people who feel this is "just the flu." I completely acknowledge we are in the early days so the mortality rates and R0s are highly contextual. I have seen estimated ranges from 0.1-0.5% to 1-2% on a steady state seasonal basis. Yes, seasonal in that we could have COVID-19 season on top of regular flu season given an expectation that 40-70% of the world could be infected. It remains to be seen if warm weather really will contain the spread given that Brazil reported community transmission post Carnival. However, as Dr. Lipsitch points out "It's likely that many will have mild disease, or may be asymptomatic," but again, the risk is overwhelmed hospitals. At the very least, an additional strain of flu with a higher mortality rate is not good.
US Pandemic Readiness
Trivia question: where does the US rank in terms of hospital beds per capita? We're number one! (right?) At least top 10? Try #32. (I had no idea) You can check out the data for yourself, but for the countries mentioned above: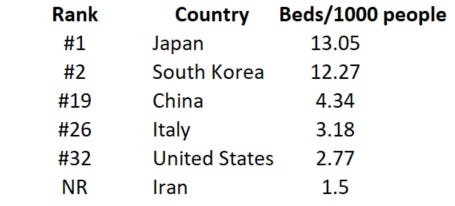 Given the varying COVID-19 situations in each country, it didn't seem like the sheer number of beds is the sole criteria for fighting a pandemic well (doesn't hurt of course). To get a more informed perspective, I spoke with three doctors (one was former CDC epidemiologist) to ask what they thought of COVID-19. Notably, all three were fairly relaxed about the situation, but when I asked what would make them concerned all three said "a shortage of ventilators". This led me down a rabbit hole of academic papers on pandemic preparation. In this paper, they mention that "Our study results showed that U.S. hospitals could absorb between 26,200 and 56,300 additional ventilators at the peak of a national influenza pandemic outbreak with robust pre-pandemic planning." Since we have 62,000 full function ventilators and 98,000 partial function ventilators nationwide, that is sufficient for "Ventilators at peak" show in the table below (link to paper). The assumption for case fatality rate (CFR) in the "High Severity" scenario is 0.5%.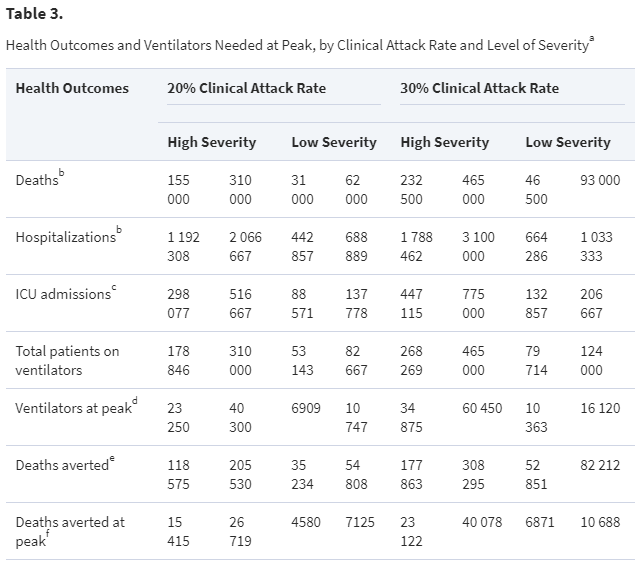 So we are all good right? Johns Hopkins isn't nearly as sanguine.
The impact of a COVID-19 pandemic on hospitals is expected to be severe in the best of circumstances. Currently, US hospitals routinely operate at or near full capacity and have limited ability to rapidly increase services. There are currently shortages of healthcare workers of all kinds. Emergency departments are overcrowded and often have to divert patients to other hospitals.

In recent years, there has been a reduction in the overall number of hospitals, hospital beds, and emergency rooms. During an epidemic, the healthcare workforce would be greatly reduced. Healthcare workers would face a high risk of infection because of contact with infected patients; many would need to stay home to care for sick relatives, and, in the absence of vaccine, others might fear coming to work lest they bring a lethal infection home to their families. The provision of medical services to both COVID-19 and non–COVID-19 patients may be adversely affected in most communities.

Detailed modeling projections for COVID-19 have not yet been released by the US government or WHO; however, the US Department of Health and Human Services (HHS) released official planning assumptions for pandemic influenza, ranging from a moderate pandemic like 1968 or 1957, to one based on a very severe pandemic like 1918.2 These may be the best tools we have at the moment. They differ by more than 10-fold in the number expected to need hospitalization, intensive care, and mechanical ventilation (see Table 1).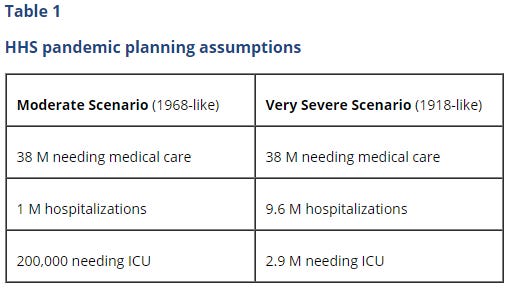 As noted above "robust pre-pandemic planning" is necessary and we are only getting in gear over the last week or so. Assuming we did have enough ventilators nationwide, always having enough in a specific geography experiencing an outbreak ex ante will be near impossible (seems hospitals are taking stock though). It's kind of like the popular vote vs electoral college. You may have enough votes nationally but if they aren't in the right states, you lose. Except in this case, patients die. Put in yet another way, if ventilator (and ECMO) inventories begin to entire the national conversation, that is a bad sign. More testing would help determine the level of outbreak locally and the number needed, but clearly there is no crystal ball. (Not within the scope of this post, but I have been wondering what the true infection rates are in countries with weaker healthcare systems and less ability to test)
I have had plenty of conversations with people who feel like preparation is pointless. During the Spanish Flu, Philadelphia didn't cancel a 200,000 person parade and "within 72 hours, every bed in the city's 31 hospitals was filled." Compare this to St. Louis, which cancelled large gatherings and proactively worked to slow the spread, resulting in a mortality rate which was half of Philly's. Given the main risk is overwhelming the healthcare system, "flattening the epidemic curve" may be the most effective way to mitigate the impact. On an acute level, this would lower the impact of a surge in hospital cases which would put all patients there at risk, especially the already hospitalized elderly. And over the longer term, this could buy time for researchers to develop a vaccine or anti-viral treatment (Gilead's Remdesivir has been fast tracked into Phase III). However, there is an economic and social cost which can not be ignored and which we are starting to see now.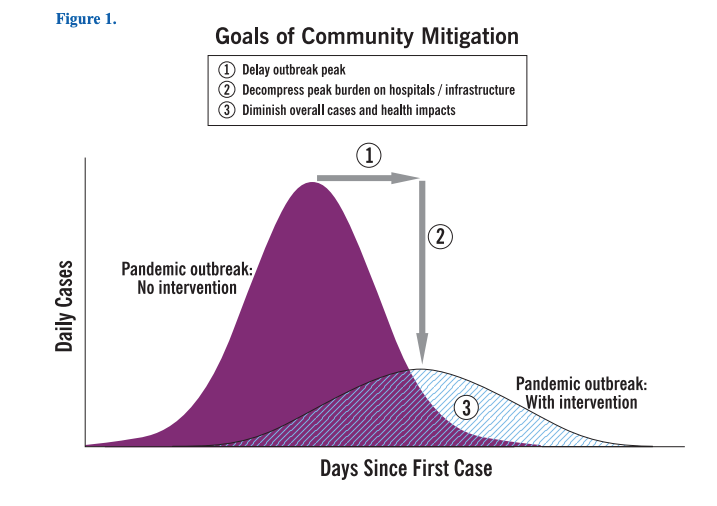 At the moment it seems like 100 years later, America's response will be locally driven again, due to dysfunctional bureaucracy and technical gaffes, though hopefully we are turning a corner. Compare this to South Korea which has tested more than 100,000 people, all paid for by the government to encourage suspected cases to come forward. They have even set up drive by testing! The US healthcare system does not lack resources or equipment, but to beat a quickly spreading virus, we are missing coordination.
Seattle: Tip of the Iceberg?
Over the last week, Washington state began ramping up and has been aggressively testing for COVID-19. In short order, they uncovered the first known cluster in the US at the Lifecare nursing home in Kirkland, a suburb of Seattle. Thus far, of the 11 deaths in the state, 8 were from the 108 residents of Lifecare. The local firefighters who responded were infected and put into isolation. And in anticipation of more cases, King county (Seattle) is buying a motel to house patients, but has run into NIMBY issues.
Seattle's case count and how they manage any prospective surge will be a rough proxy for whether our healthcare system can hold the line. I know most of you will think I am being alarmist, but two weeks ago the market assumed COVID-19 was contained and would play out exactly like SARS. That assumption was wrong and here we are. Now the assumption is we can handle any outbreaks here and that the only people that need to worry are patients older than 60 with preexisting conditions. There is very possibly a scenario where this is much ado about nothing. In that case, and we BTFD like there is no tomorrow and nothing in this post is matters, but I don't think we know yet. Bottom line: do I really think the US healthcare system is at risk?
Box #1 (Low Frequency / Low Severity): No

Box #2 (High Frequency / Low Severity): No

Box #3 (Low Frequency / High Severity): Possibly, though even in a good scenario the first days could be very ugly

Box #4 (High Frequency / High Severity): Definitely not
For now it seems like Seattle is using the St. Louis playbook, but time will tell. Based on the timeline described, March 1st in Seattle equates to January 1st in Wuhan. If Wuhan went into lockdown on Jan 23rd, that means we will find out very soon whether this is "just the flu" or something worse. At the very least, prepare for a bumpy ride in your portfolio.
So in short: Watch Seattle (and Italy).
---
Thank you for reading! Since we are all trying to get smarter about COVID-19, I welcome any comments/questions/criticisms. Find me on Twitter.